App för kunder
Client App är en mobilapp som används av personliga tränares, online coaches och gymmets kunder. Kunderna kan se sina tränings- och kostprogram, följa framstegen, bläddra i kalendern och chatta med tränaren.


14 languages
The user interface is available in English, German, French, Italian, Spanish, Portugese, Dutch, Swedish, Finnish, Estonian, Greek, Macedonian, Russian and Arabic. The coach can easily create workout and diet plans in a foreign language as well, since all exercises and food items are translated to several languages.

Calendar
With the calendar, the client knows every day what tasks and programs are included in the current plan. The calendar is not just a calendar for workouts, but the coach can schedule anything for the client to do or see on a particular day, such as:
Share videos and photos
Give instructions
Share articles
Assign tasks
Ask for feedback
Send automated emails, chat messages, and push notifications
Clients can also add their own workouts to the calendar, keep a food diary, or add other events.
Workout Plans
Trainero has one of the largest exercise collections on the market. It allows coaches to create versatile and effective workout plans. In addition to the pictures, there are videos of every exercise, so clients can safely and correctly carry out the workouts even on their own.
In addition to Trainero's comprehensive exercise collection and almost 100 ready-made workout plan templates, you can use your own materials, pictures, and videos without limitations.
When the workout has an exact time set into it, the client will receive a push notification when it's time to start the training.
Diet Plans
Trainero has a collection of more than 4,000 food items, and with them, coaches can build comprehensive and specific diet plans for their clients.
The client gets a clear breakdown of the diet plan's content: Proteins, Carbohydrates, Fats, Fibers, and much more.
You can easily add your custom food items to the food item collection, so it suits your client's needs.
Meals can be scheduled so that the client receives a push notification every time it's time to have a meal.
Progress Tracking
The coach can follow the client's progress with over 20 different measuring points, such as weight, blood pressure, circumference, sleep, etc. Clients will receive a push notification every time they should enter some measurement data.
Clients can follow their progress with the help of informative graphs. The coach sees the same graphs and can conveniently monitor how the clients are evolving.
The coach can also create an unlimited number of own custom measuring points.
Chat
With a built-in chat, the coach can keep in touch with the clients conveniently and effortlessly.
You can attach all types of files to your messages, such as pictures, videos, and PDFs.
When a client belongs to a group, he or she can chat with other group members and motivate each other.
If necessary, the chat can also be turned off.
Advertise Additional Services
Create client or group-specific ads shown on the client app's home page where they will be noticed. For example, you can advertise additional services, products in your online store, or just announce important issues like new opening hours of your gym.
Push notifications are an effective way to reach your clients. You can redirect a client to an application or a website, such as an online store or a landing page that sells additional services.
White Label- client app med eget varumärke
Med vår White Label-lösning kan du erbjuda dina kunder din egen mobilapplikation som är byggd på den mest interaktiva och flexibla coachingsplattformen på marknaden. Applikationen använder de senaste molnteknikerna och låter dig producera högkvalitativa och moderna coachningstjänster för dina kunder.
Läs mer
Kontakta försäljningen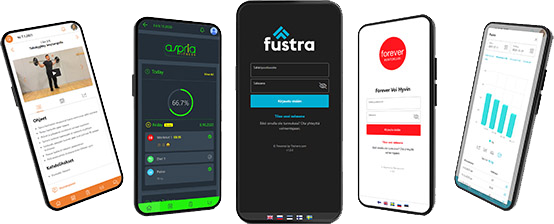 Prissättning
Alla våra paket innehåller alla våra funktioner och en obegränsad mängd kunder, grupper och tränarkonton.
Starter
€15I månaden
Coach App
Client App
Upp till

50

program*
Premium
€30I månaden
Coach App
Client App
Upp till

200

program*
Ultra
€60I månaden
Coach App
Client App
Upp till

600

program*
White Label-plan
Coach App
Gratis Client App med

eget varumärke

Obegränsat

antal program*
* Ett program med flera dagliga träningspass räknas som ett program. Ett kostprogram med flera dagliga program räknas som ett program. Du kommer att få ett meddelande när du håller på att nå limiten på ditt paket, så att du kan uppgradera eller ta bort program för att hållas inom limiten.