FAQ
Här kan du hitta en lista med de vanligaste frågorna. Om du inte hittar svaret på din fråga, tveka inte att kontakta oss.
Kontakta oss
My quota is running out. Can I delete workout plans to stay under the limit?
You can delete as many workout plans or nutrition plans as you want to release quota. Then you can create new ones. You can also upgrade your subscription to get more quota. See Pricing.
How many clients can I add to my account?
You can add an unlimited number of clients and groups to your account.
How many co-trainers can I invite to use Trainero?
You can invite an unlimited number of co-trainers to your account. You, as the main account user, can see and manage everything that your sub-account users are doing.
Can I upload my own exercises into my account?
Yes, you can. You can upload an unlimited number of exercises with pictures and videos.
How long videos can I upload to my account?
You can upload up to 3 hour long videos to your account.
I work as a personal trainer and as an online coach, can I use Trainero in both cases?
Trainero enables completely free content production and has built-in features that support all types of coaching work. Read more about Online Coaching.
Can I share an invitation link to a Teams or a Zoom meeting in Trainero?
You can share all kinds of links in Trainero, and they will open directly from the app. You can add the link to chat messages, calendar events, or practically anywhere.
What is a Timeline?
It is a predefined period of time in which a coach can freely create the content and then schedule it to be shared with the client at a specific time. Timeline suits perfectly for Online Coaching.
Can I use hyperlinks in Trainero?
Yes, both you and your clients can add and open hyperlinks almost everywhere in Trainero. For example, you can share Youtube links, Teams or Zoom meeting links, or links to any external website.
Can I add invoices and payment links to the Timeline?
Yes, you can add all types of invoices and payment links into the Timeline. You can direct your client to go to PayPal's payment page, for instance.
Can I add my own videos to the Timeline?
Yes, you can. You can share your videos in two ways by sharing a YouTube or Vimeo link, or uploading your own video into the Timeline.
Is the Starter subscription's quota (50 plans) per month or is it the total number?
The quota means the total number of plans that you can create within the subscription. One workout plan with several daily workouts is counted as 1 plan. One nutrition plan with several daily diets is counted as 1 plan. You will be notified when your limit is being reached, so you can upgrade or delete some plans to stay under the limit.
Is there any ready-made content in Trainero?
Yes, there is. Trainero has an exercise collection with more than 2000 exercises, a collection of more than 4000 food items, almost 100 ready-made workout plan templates, and much more. You can also upload an unlimited number of your own exercises, food items, tracking items (e.g., weight, blood pressure), videos, files, etc., into your account.
Can my clients add their own workouts to their calendar?
Your clients can add their own workouts, food diaries, and other own events into the calendar in their Client App.
How can Trainero automate my work? I coach large groups online and I need tools to manage them with as little extra work as possible?
Almost everything can be automated after you have created the content for your online course (Timeline feature). You can, for example, choose the time and a specific time when the content is shared with your clients. Read more about Online Coaching.
White Label- client app med eget varumärke
Med vår White Label-lösning kan du erbjuda dina kunder din egen mobilapplikation som är byggd på den mest interaktiva och flexibla coachingsplattformen på marknaden. Applikationen använder de senaste molnteknikerna och låter dig producera högkvalitativa och moderna coachningstjänster för dina kunder.
Läs mer
Kontakta försäljningen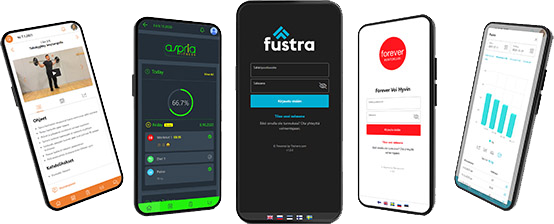 Prissättning
Alla våra paket innehåller alla våra funktioner och en obegränsad mängd kunder, grupper och tränarkonton.
Starter
€15I månaden
Coach App
Client App
Upp till

50

program*
Premium
€30I månaden
Coach App
Client App
Upp till

200

program*
Ultra
€60I månaden
Coach App
Client App
Upp till

600

program*
White Label-plan
Coach App
Gratis Client App med

eget varumärke

CRM + Webbutik

Obegränsat

antal program*
* Ett program med flera dagliga träningspass räknas som ett program. Ett kostprogram med flera dagliga program räknas som ett program. Du kommer att få ett meddelande när du håller på att nå limiten på ditt paket, så att du kan uppgradera eller ta bort program för att hållas inom limiten.