Följ med utvecklingen
När din kund via sitt eget konto skriver in noteringar och anteckningar ser du dem enkelt med ett ögonkast.
Follow Progress of Your Clients
1.

Select What to Follow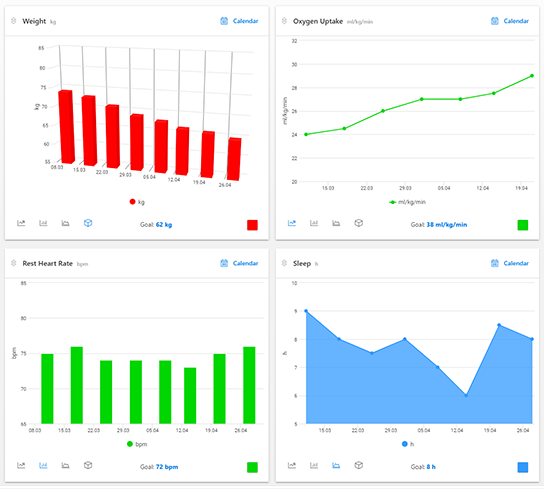 18 Built-In Tracking Items
Tracking item represents some property that you want to follow, for instance, client's weight, blood pressure or circumference of the waist. In Trainero, there are 18 built-in items:
Weight
Blood Pressure (low)
Blood Pressure (high)
Body Fat
Oxygen Uptake
Max Heart Rate
Rest Heart Rate
Cooper Test
Bicycle ergometer
Body Fat (with a caliper)
Circumference - Neck
Circumference - Chest
Circumference - Upper Arm
Circumference - Forearm
Circumference - Waist
Circumference - Hip
Circumference - Thigh
Circumference - Calf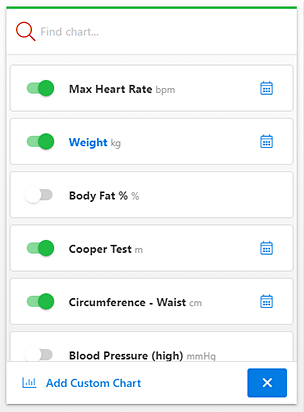 Enable Tracking Per Client
You can enable different tracking items for each client. Select weekdays when you want the client to fill the required information. For example, you may want to know his or her weight on Saturday mornings.
Create Own Tracking Items
You can freely add as many items you want and follow pretty much everything imaginable, like long jump results, sleeping time and steps taken in a day.
2.

Follow Progress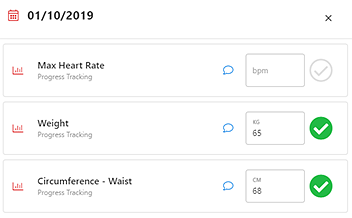 Client Enters Results
The client will be prompted to enter results, weights or whatever is needed on selected days. Notes can also be added for each entry.
You as a trainer can fill the results as well.

Trainer Gets Instant Notifications
The trainer can instantly see when the client progresses by pop-up notifications.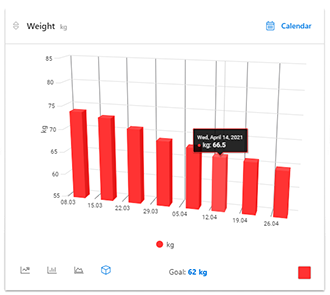 The Graph Is Updated in Real-Time
As soon as the result is entered, both you and your client can see the change in the progress graph.
You can choose how the graph is shown - as columns, area, line, or 3D-columns.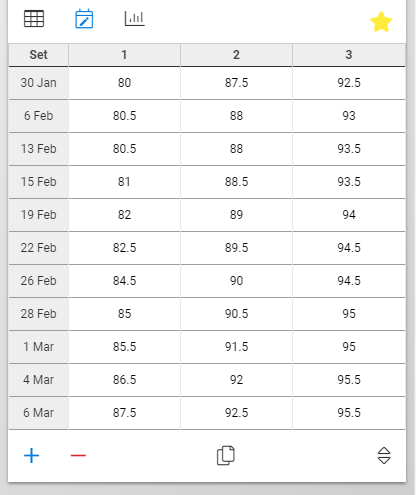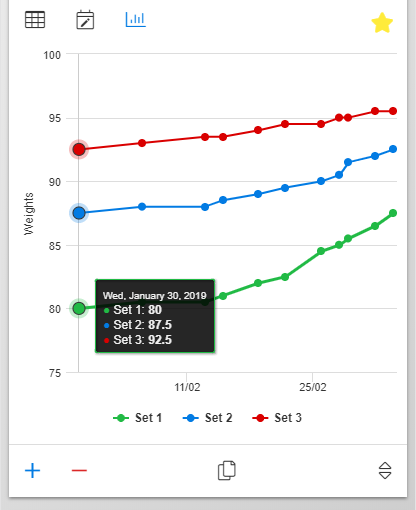 Follow the Progress of Each Exercise
In addition to above-mentioned tracking methods, there is also a built-in tool to follow the progress of each exercise in a workout plan.
It is fully automatic, so you only need to go to the workout plan and check the exercise details.
Read more about workout planning.
White Label- client app med eget varumärke
Med vår White Label-lösning kan du erbjuda dina kunder din egen mobilapplikation som är byggd på den mest interaktiva och flexibla coachingsplattformen på marknaden. Applikationen använder de senaste molnteknikerna och låter dig producera högkvalitativa och moderna coachningstjänster för dina kunder.
Läs mer
Kontakta försäljningen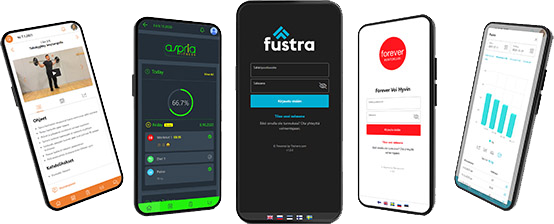 Prissättning
Alla våra paket innehåller alla våra funktioner och en obegränsad mängd kunder, grupper och tränarkonton.
Starter
€15I månaden
Coach App
Client App*
Upp till

50

program**
Premium
€30I månaden
Coach App
Client App*
Upp till

200

program**
Ultra
€60I månaden
Coach App
Client App*
Upp till

600

program**
White Label-plan
Coach App
Gratis Client App med

eget varumärke

Obegränsat

antal program**