Progress Tracking
When clients write down results in their Client Account, you will see the progress in one glance.
Follow Progress of Your Clients
1.

Select What to Follow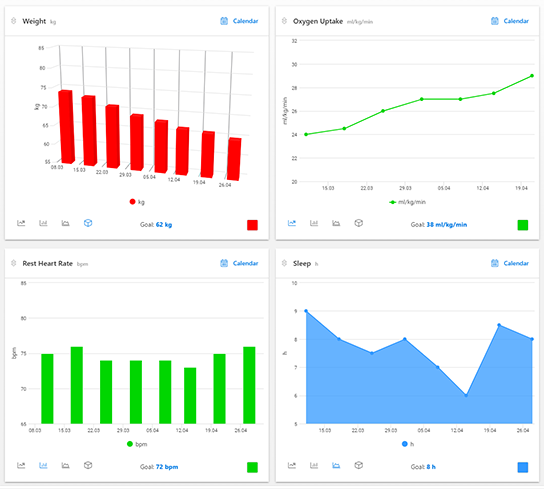 18 Built-In Tracking Items
Tracking item represents some property that you want to follow, for instance, client's weight, blood pressure or circumference of the waist. In Trainero, there are 18 built-in items:
Weight
Blood Pressure (low)
Blood Pressure (high)
Body Fat
Oxygen Uptake
Max Heart Rate
Rest Heart Rate
Cooper Test
Bicycle ergometer
Body Fat (with a caliper)
Circumference - Neck
Circumference - Chest
Circumference - Upper Arm
Circumference - Forearm
Circumference - Waist
Circumference - Hip
Circumference - Thigh
Circumference - Calf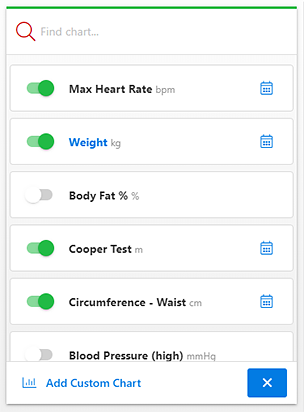 Enable Tracking Per Client
You can enable different tracking items for each client. Select weekdays when you want the client to fill the required information. For example, you may want to know his or her weight on Saturday mornings.
Create Own Tracking Items
You can freely add as many items you want and follow pretty much everything imaginable, like long jump results, sleeping time and steps taken in a day.
2.

Follow Progress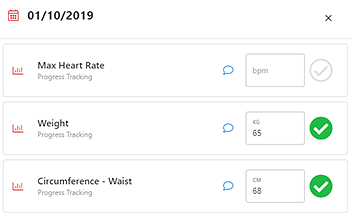 Client Enters Results
The client will be prompted to enter results, weights or whatever is needed on selected days. Notes can also be added for each entry.
You as a trainer can fill the results as well.

Trainer Gets Instant Notifications
The trainer can instantly see when the client progresses by pop-up notifications.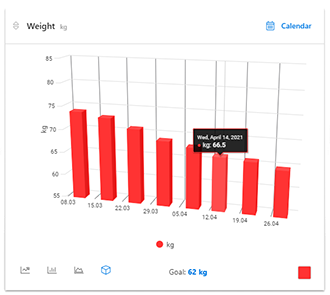 The Graph Is Updated in Real-Time
As soon as the result is entered, both you and your client can see the change in the progress graph.
You can choose how the graph is shown - as columns, area, line, or 3D-columns.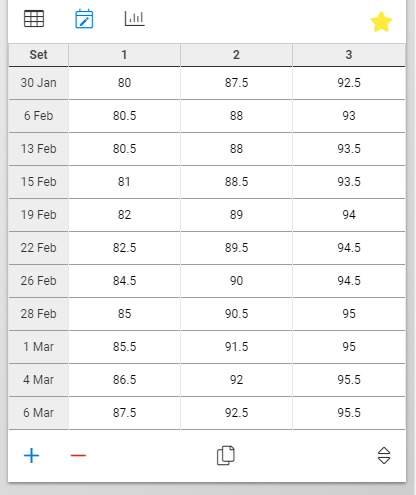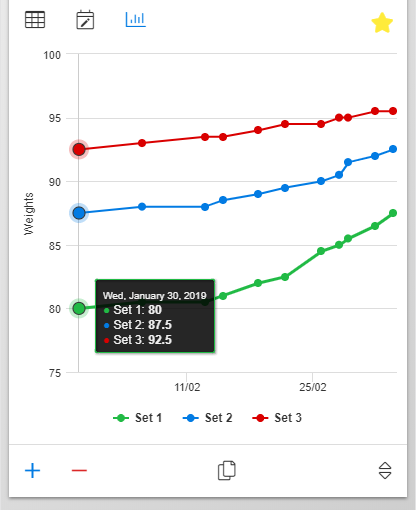 Follow the Progress of Each Exercise
In addition to above-mentioned tracking methods, there is also a built-in tool to follow the progress of each exercise in a workout plan.
It is fully automatic, so you only need to go to the workout plan and check the exercise details.
Read more about workout planning.
White Label Client App with Own Brand
With our White Label solution, you can offer your clients your own branded mobile application built onto the most interactive and flexible coaching platform on the market. The application utilizes the latest cloud technologies and allows you to produce high-quality and modern coaching services for your clients.
Read More
Contact Sales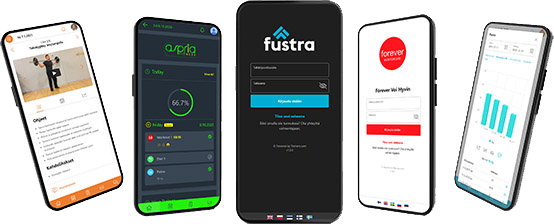 Pricing
All plans have all the features with unlimited number of clients, groups and co-trainers.
Starter
$15Monthly
Coach App
Client App
Up to

50

plans*
Premium
$30Monthly
Coach App
Client App
Up to

200

plans*
Ultra
$60Monthly
Coach App
Client App
Up to

600

plans*
White Label Plan
Coach App
Free Client App with

own brand

CRM + Online Store

Unlimited

number of plans*
* One workout plan with several daily workouts is counted as 1 plan. One nutrition plan with several daily diets is counted as 1 plan. You will be notified when your limit is being reached, so you can upgrade or delete some plans to stay under the limit.