Workout Plans
Build fantastic workout plans by using Exercise Collection that has over 2000 exercises. It's easy to search and explore. With the help of Workout Wizard, you can create workout plans in less than 60 seconds.
Create Workout Plans
Trainero.com offers the most versatile tools for creating effective workout plans, which work seamlessly together with nutrition planning tools.
1.

Search Exercises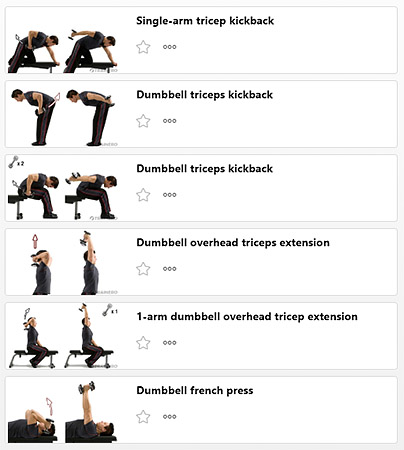 Over 2000 Exercises
Trainero has one of the most extensive exercise collections in the market. You can choose to use images or videos.
Each exercise has default instructions in 5 different languages.
The collection consists of a variety of exercise types:
weight training
cardio
stretching
pilates
yoga
circuit training
And there are also a lot of different equipment, like dumbbells, barbells, kettlebells, wooden stick and much more.

Find Exercises Easily
Find any exercise with only a few clicks thanks to our advanced search tool. You can search by:
name
target muscle
equipment
type
Save search parameters for later use to quickly repeat your favorite search.

Tag favorite exercises by clicking the "star" button to get a shortcut to your most important exercises.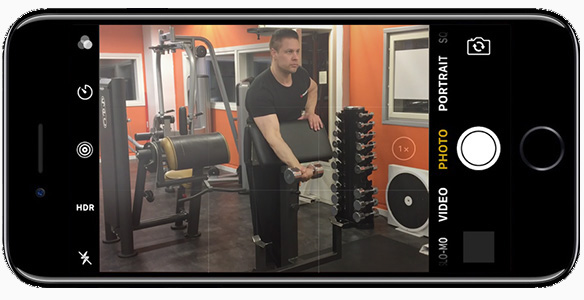 Upload Own Exercises
If you cannot find your special exercise in our collection, you can easily upload your own. Take a photo or a video with your camera, and instantly you will have a new exercise in the collection!
You can also write instructions and define the type and equipment.
The new exercise will be available to your co-trainers so you can build your custom collection for your team.
2.

Add Exercises to the Workout Plan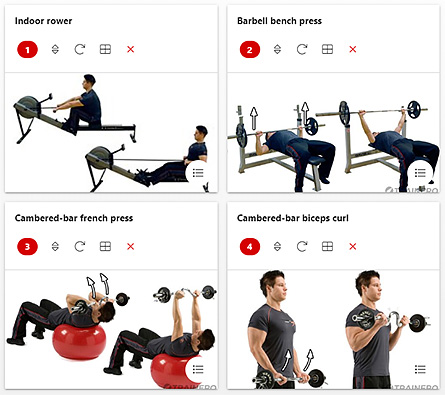 Add Exercise With a Click
Click an exercise in the collection, and it is added to your workout. Only one click needed!
You can change the order by drag-n-drop, replace exercises and edit instructions of the workout plan any way you like.
The exercise collection and search tool are always on the right side of the screen, so you don't have to jump around between pages. This speeds up your building process even more.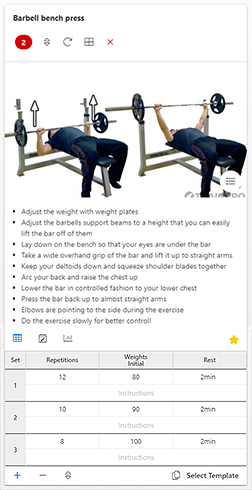 Edit Instructions
You may want to change our default instructions or even the name of an exercise. It is easy - click the text, and you can edit everything.
Your customized instructions are saved permanently, so when you add the same exercise again, they are in use.
Reps & Sets Table
Handling exercise's reps & sets has never been this easy and informative. For every exercise you can add:
repetitions and sets
target weights
rest period after the set
instructions for each set
heart rate zones for cardio exercises
And you can also:
see the last entered weights without browsing all the results
add more rows with a click
Enter Results
Both you and your client can enter results for each workout day and each set.
You can view the results with a glance to quickly see how the client has progressed. You can also spot any skipped exercises.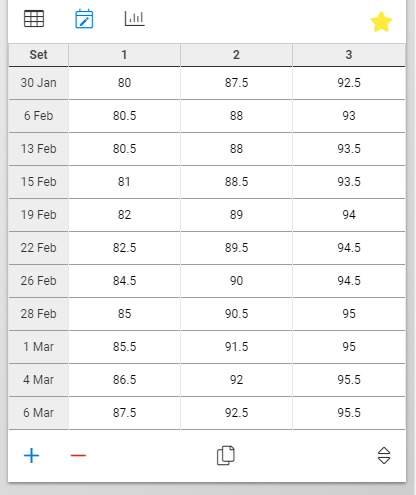 Follow Progress of Each Exercise
When the client (or you) enters results for each workout day, you can see a graphical presentation of the progress of each exercise.
But that's not all! You can see the progress of each set of the exercise, too!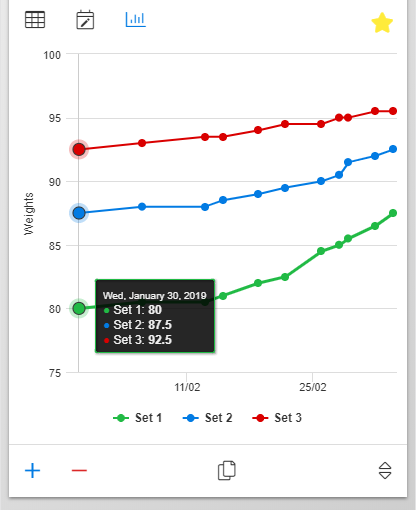 Heart Rate Zones Simplified
Create simple or complex heart rate zone tables. All you need to know is the client's max heart rate. Define levels by entering min or max % of the max rate. Remaining cells will be filled automatically.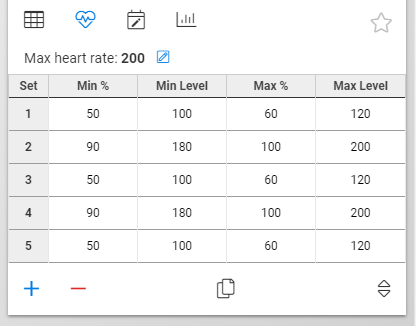 Over 70 Built-in Reps & Sets Templates
Want to quickly add Tabata or HIIT 1:3 to your exercise? It is effortless! Click the "Use Template" button, and you will see over 70 ready-made reps & sets templates to choose from.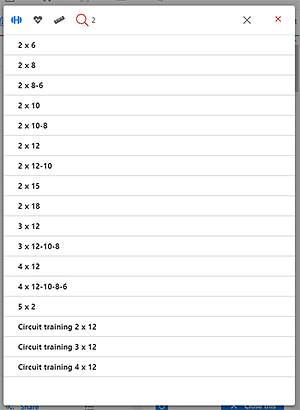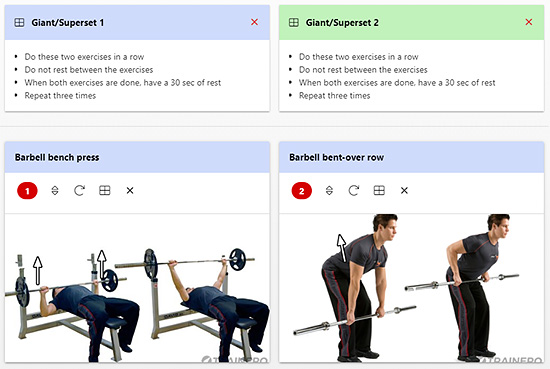 Giant Sets & Supersets
Trainero supports advanced training methods, such as giant sets and supersets. Click Superset buttons

of any two or more consecutive exercise. You can see the color changes meaning that exercises with the same color belong to one giant set or superset. Click the button one more time to toggle between sets.
You can write special instructions for each set to inform the client how to proceed with the set.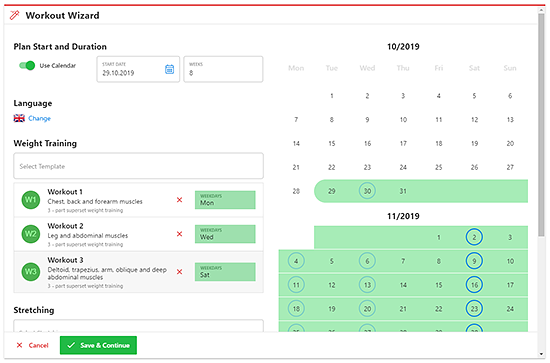 Workout Wizard
For those who want to maximize profitability, the Workout Wizard is here to help you. With the wizard, you can create complete workout plans in less than 60 seconds. The more time you save, the more money you will make!
Wizard uses sophisticated AI-based algorithm to build the most suitable plan for your client. And of course, you can modify the result as you like!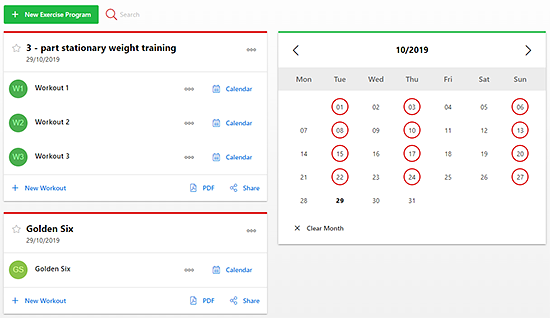 Build Calendar
When your workout plan is ready, you may want to add it to the calendar. It is effortless in Trainero! Select the workout plan on the left and tap a day of the calendar to select that day.
3.

Share the Workout Plan
Invite Client to Trainero.com
When you invite your client to Trainero, he or she will get an own client account where all workout plans, calendar, tracking and advanced communication tools are accessible. Trainero Client app is available for both iOS and Android devices.

Read More About Client App
Send PDF by Email
In case you just want to send the PDF to the client without inviting him or her to Trainero, there is a built-in tool for that. Select a plan and send it to one or many clients at once. Customize the subject and the message of the email.
You can also download the PDF as well and maybe print it to paper.
The PDF has your logo on the top left corner, so your client recognizes your brand with a glance.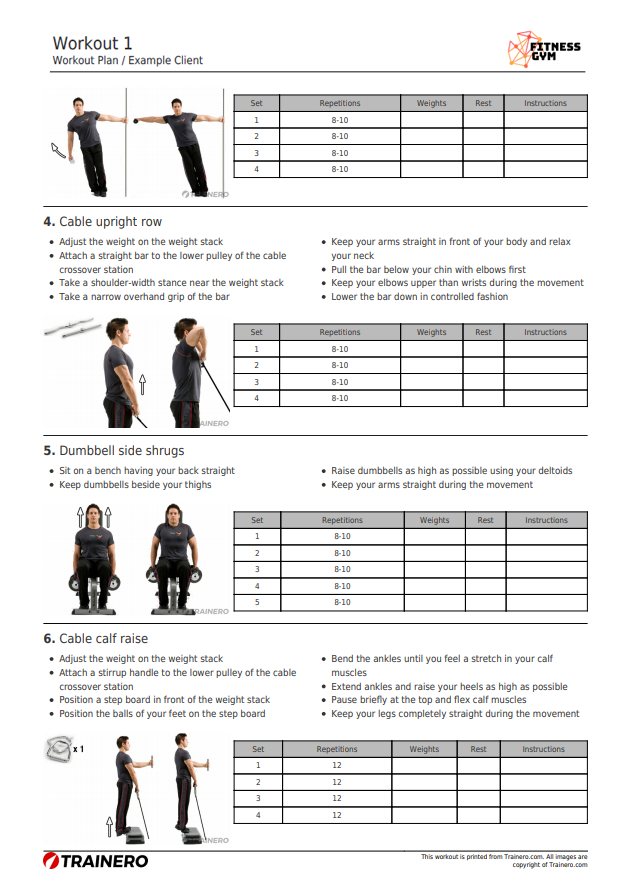 White Label Client App with Own Brand
With our White Label solution, you can offer your clients your own branded mobile application built onto the most interactive and flexible coaching platform on the market. The application utilizes the latest cloud technologies and allows you to produce high-quality and modern coaching services for your clients.
Read More
Contact Sales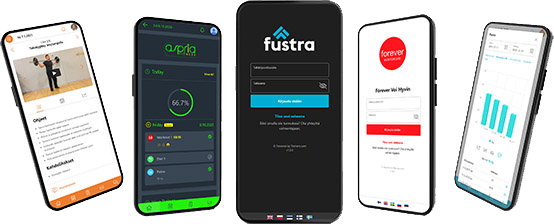 Pricing
All plans have all the features with unlimited number of clients, groups and co-trainers.
Starter
$15Monthly
Coach App
Client App
Up to

50

plans*
Premium
$30Monthly
Coach App
Client App
Up to

200

plans*
Ultra
$60Monthly
Coach App
Client App
Up to

600

plans*
White Label Plan
Coach App
Free Client App with

own brand

CRM + Online Store

Unlimited

number of plans*
* One workout plan with several daily workouts is counted as 1 plan. One nutrition plan with several daily diets is counted as 1 plan. You will be notified when your limit is being reached, so you can upgrade or delete some plans to stay under the limit.