CRM för administrering
Hantera ditt företag med ett helt integrerat CRM som fungerar sömlöst med andra delar av Trainero. Hantera kunder, coacher, beställningar och betalningar.
CRM
Trainero is a versatile coaching platform and it also includes a CRM that helps to streamline the managing process.
You no longer need any external systems and tedious integrations between them. With Trainero's CRM, you can manage the entire package: coaches, customers, and staff.
All of the Trainero's features are designed to work seamlessly together.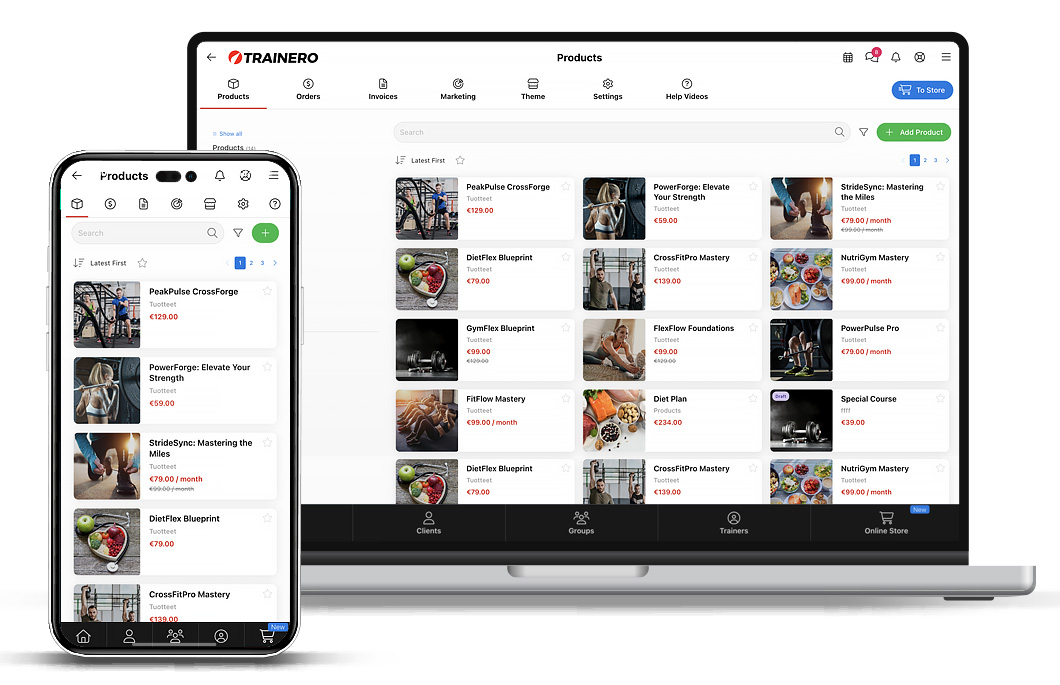 Manage users
With the CRM, you can manage your entire user base, from customers to staff.
Gym chain management: You can add locations, manage accounts, and track key figures
Coach management: Add an unlimited number of coaches and track activity
Client management: Track client activity, online store purchases, and the number of app downloads
Group management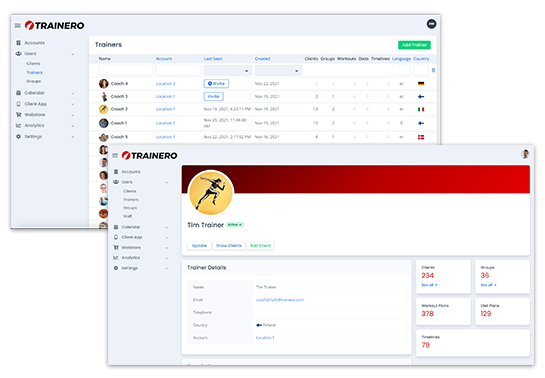 Appointment Booking
A versatile appointment scheduling calendar is available in client accounts, coach accounts, and CRM.
The staff can determine the available times for coaches, group exercise classes, and different facilities.
Clients can book appointments in their app
Follow how the classes are being held per location
Download appointment reports to an Excel file for salary calculations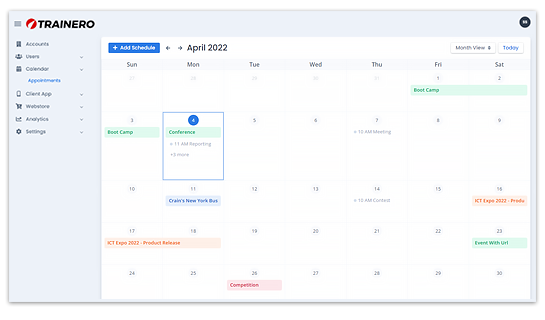 Manage the Online Store
Manage and edit the products and layout of your online store. Add products, courses, and programs for sale with a couple of clicks.
You can sell products with either a one-time payment or recurring invoicing, such as a monthly gym membership.
Activate the payment methods you want, and then the revenue stream will come directly to your business without middlemen.
Läs mer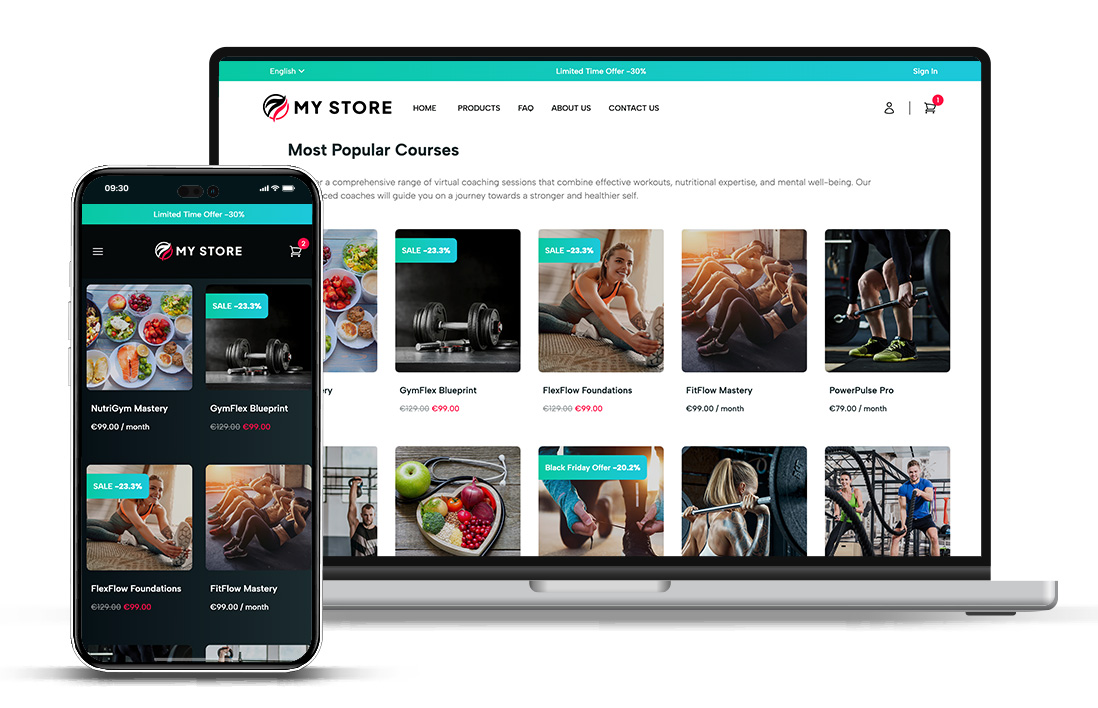 Digital Contracts
Create an unlimited number of custom contract templates, and attach them to the products and services you sell online
Before purchasing the product or service, the customer must accept the terms of the contract
After the purchase, the digital contracts are saved to the client's account and the CRM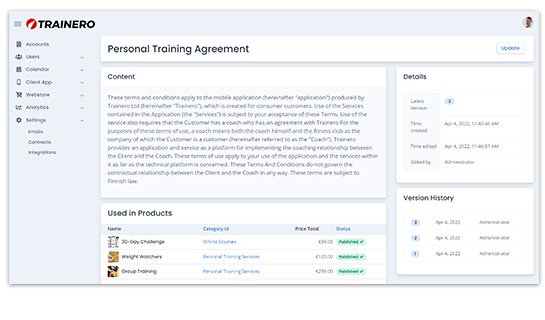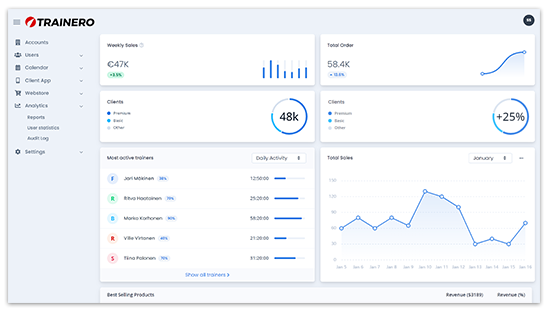 Track and Analyze
You can easily see the key figures of the online store. For example, which online courses are the most popular, and how much is the total revenue.
You can also track the activity of coaches and different locations.
You can install your own tracking codes, such as Google Analytics, Facebook Pixel, and even Google Tagmanager to provide you with valuable insight to your business
Download reports to Excel files, and use them in accounting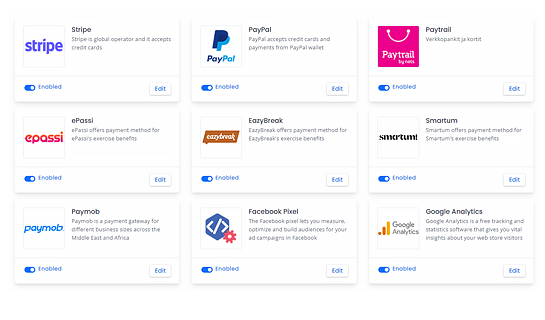 Integrations
Nearly 20 ready-made integrations with different systems: multiple payment methods, tracking & analytics, chat for customer service, your own e-mail server, etc. This allows you to expand the functionality in several different ways.
In addition, you have a versatile API at your disposal API.
White Label- client app med eget varumärke
Med vår White Label-lösning kan du erbjuda dina kunder din egen mobilapplikation som är byggd på den mest interaktiva och flexibla coachingsplattformen på marknaden. Applikationen använder de senaste molnteknikerna och låter dig producera högkvalitativa och moderna coachningstjänster för dina kunder.
Läs mer
Kontakta försäljningen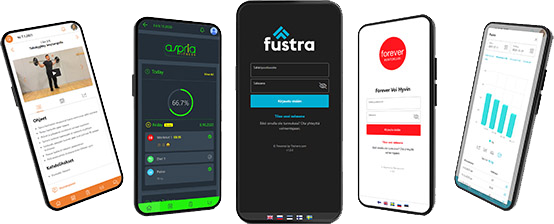 Prissättning
Alla våra paket innehåller alla våra funktioner och en obegränsad mängd kunder, grupper och tränarkonton.
Starter
kr150I månaden
Coach App
Client App
Upp till

50

program*
Premium
kr300I månaden
Coach App
Client App
Upp till

200

program*
Ultra
kr600I månaden
Coach App
Client App
Upp till

600

program*
White Label-plan
Coach App
Gratis Client App med

eget varumärke

Obegränsat

antal program*
* Ett program med flera dagliga träningspass räknas som ett program. Ett kostprogram med flera dagliga program räknas som ett program. Du kommer att få ett meddelande när du håller på att nå limiten på ditt paket, så att du kan uppgradera eller ta bort program för att hållas inom limiten.