Inbyggd webbutik
Sälj produkter, onlinekurser och andra tjänster som kan byggas med Coach-appen. Du kan hantera dina produkter och beställningar genom CRM, och du kan även anpassa design och innehåll för att matcha ditt eget varumärke.
Own Online Store
Create programs, online courses, and other services with Trainero's coach app and then conveniently sell them in the built-in online store. Automate the entire sales process!
Forget all the tedious integrations between different systems. Now everything is available in one service.
Unlimited number of products
One-time or monthly fee products
Automated payment reminders
Voucher codes
Customize the style of the store to fit your brand
Own domain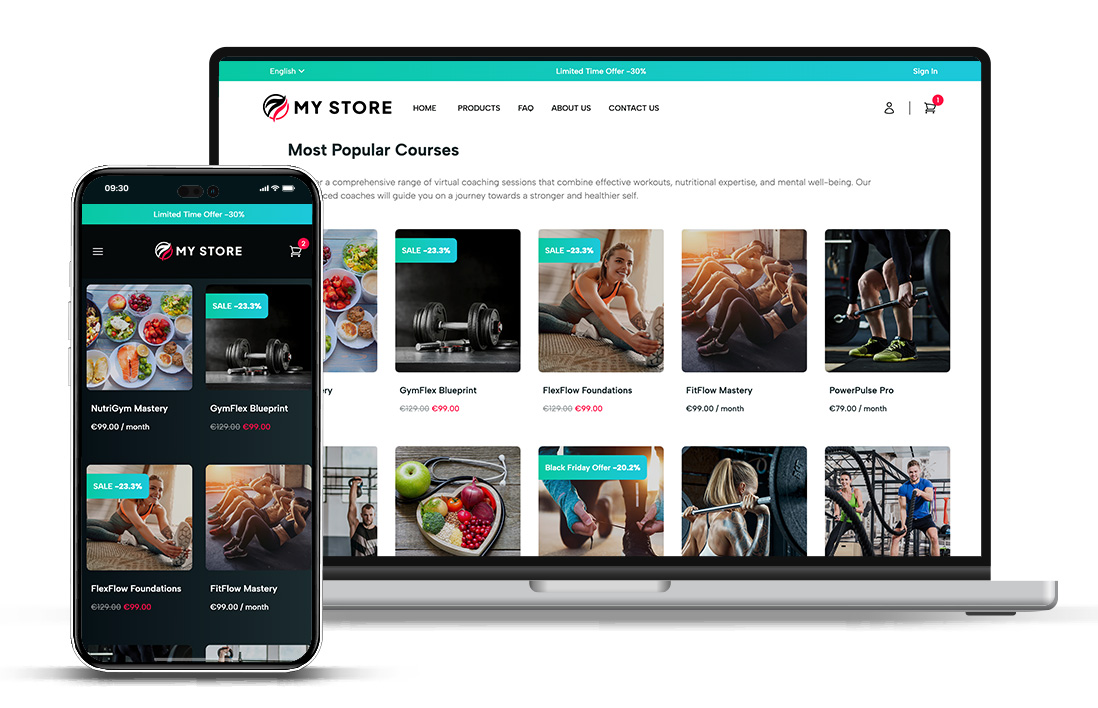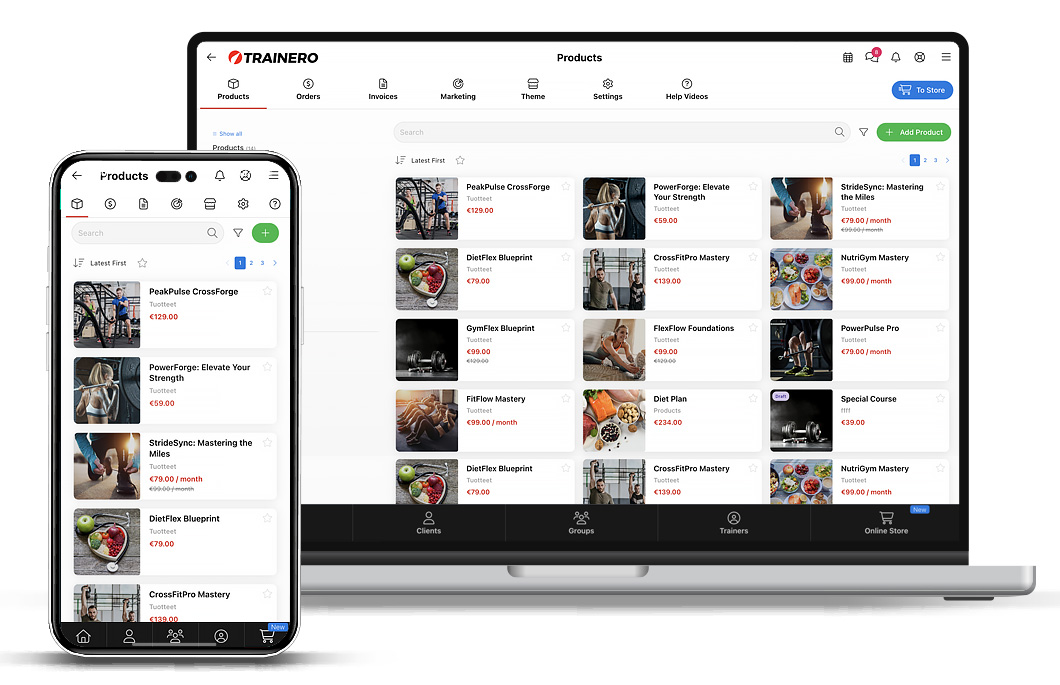 Manage Products
Use your coach account to freely create content, programs, courses, etc., and with a couple of clicks in CRM, put them up for sale in your own online store. You can use one-time or recurring payments in the products.
The customer will automatically get the purchased content into their Client App, to which you can also share e.g. advertisements and announcements about new services and courses.
Selling physical products such as clothing, supplements, and books is also easy, as you can automatically direct orders to your own inventory management system, which handles the packaging and shipping for you.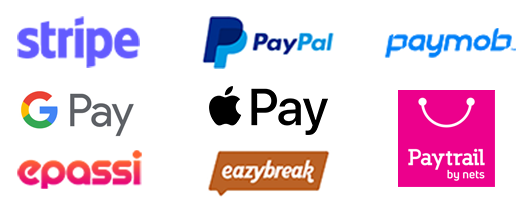 Manage Orders and Payments
You can choose from several different payment methods the ones you want to use. Your company receives all of the payments without intermediaries.
In recurring invoicing, the system automatically sends payment reminders and, if necessary, denies access to the app and the content.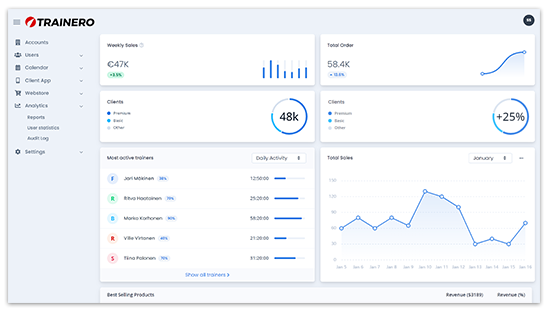 Track and Analyze
You can easily see the key figures of the online store. For example, which online courses are the most popular, and how much is the total revenue.
You can also track the activity of coaches and different locations.
You can install your own tracking codes, such as Google Analytics, Facebook Pixel, and even Google Tagmanager to provide you with valuable insight to your business
Download reports to Excel files, and use them in accounting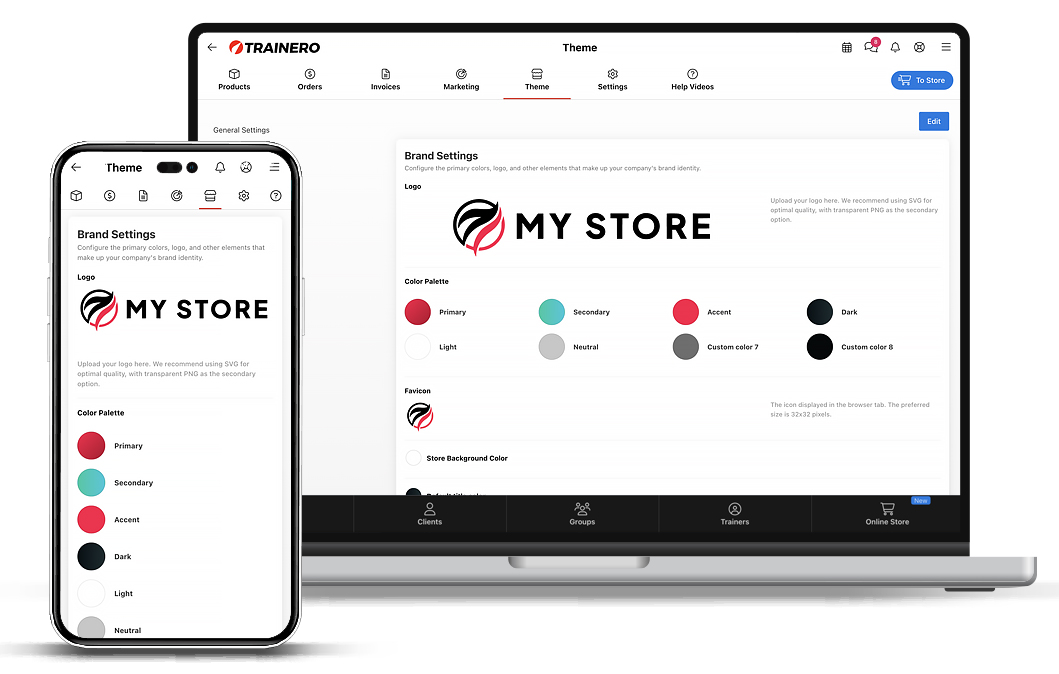 Customize Appearance
The online store's appearance and some of the features can be customized according to your brand, e.g.:
Name
Logo
Color scheme
Pictures & texts
Payment methods
Own domain
Digital contracts that the customer must accept when purchasing your products
You can freely edit the information above, and the content of the online store.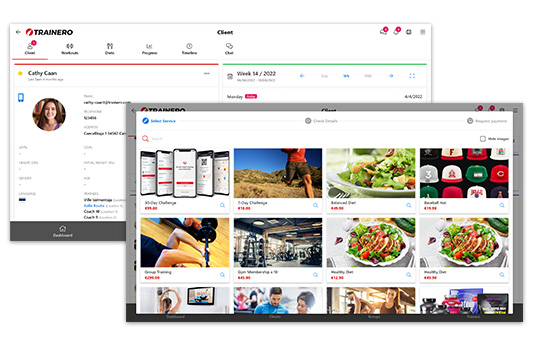 Coaches Can Sell Products
It's also possible to sell the online store's products and services directly through a coach account.
For example, a coach can sell additional services and products directly to a client during an appointment. The coach selects a product from the product list in his or her Coach App, and with a touch of a button, the client receives a payment link by email or text message.
White Label- client app med eget varumärke
Med vår White Label-lösning kan du erbjuda dina kunder din egen mobilapplikation som är byggd på den mest interaktiva och flexibla coachingsplattformen på marknaden. Applikationen använder de senaste molnteknikerna och låter dig producera högkvalitativa och moderna coachningstjänster för dina kunder.
Läs mer
Kontakta försäljningen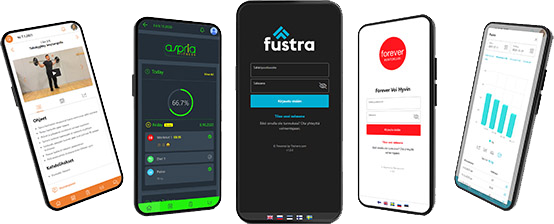 Prissättning
Alla våra paket innehåller alla våra funktioner och en obegränsad mängd kunder, grupper och tränarkonton.
Starter
€15I månaden
Coach App
Client App
Upp till

50

program*
Premium
€30I månaden
Coach App
Client App
Upp till

200

program*
Ultra
€60I månaden
Coach App
Client App
Upp till

600

program*
White Label-plan
Coach App
Gratis Client App med

eget varumärke

Obegränsat

antal program*
* Ett program med flera dagliga träningspass räknas som ett program. Ett kostprogram med flera dagliga program räknas som ett program. Du kommer att få ett meddelande när du håller på att nå limiten på ditt paket, så att du kan uppgradera eller ta bort program för att hållas inom limiten.